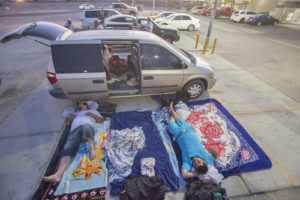 Rebecca Plevin, The Desert Sun
For too long, migrant farmworkers have slept in hot parking lots and crowded trailers in the eastern Coachella Valley. There's not enough housing here for the workers who fuel the region's agriculture industry.
But a new emergency shelter at the Galilee Center in Mecca could help fill that gap.
The Guadalupe Shelter plans to open its doors by December 1 and provide between 100 and 150 beds, according to Gloria Gomez, founder and president of the Galilee Center. The nonprofit received two gifts totaling $250,000, allowing it to operate the shelter through the grape harvest, which spans from April to June. It's expected to remain open until July 31, 2018.
The center will use the funds to hire staff to run the overnight shelter and purchase supplies. Gomez is hopeful that more people donate so the center can operate on an annual basis
Mary Ingebrand-Pohlad, who lives in La Quinta during the winter, donated $200,000 to the project; Father Howard Lincoln and the Sacred Heart Parish in Palm Desert donated the remaining $50,000.
Ingebrand-Pohlad said she was moved to act after reading
an article in the Desert Sun
about migrant farmworkers sleeping in a Mecca parking lot due to the shortage of migrant housing in the area.
"I've been mulling it over in my mind ever since," she said.
The Desert Sun reported in June that the San Felipe Migrant Housing Complex, one of the valley's two housing developments for migrant farmworkers, had closed after the operator, the Desert Alliance for Community Empowerment, went defunct. The remaining development, a 128-bed facility called Las Mananitas, is so popular that its beds fill up weeks before the harvest begins.
As a result, dozens of workers with nowhere else to go were sleeping under their cars at a parking lot on Hammond Road and Second Street in Mecca. They said they were sleeping on the pavement because the cars got too hot, even at night.
"This population is so important and I think they're living in the shadows and have been really marginalized," Ingebrand-Pohlad said. "Our goal is to empty that parking lot and put a roof over everyone's head."
Migrant farmworkers and low-income families can already take showers, do their laundry and eat a hot meal at the Galilee Center. Once the emergency shelter opens, they will also be able to sleep on mats on the floor, with clean sheets and pillows, and get breakfast in the morning. They can stay at the shelter indefinitely, if they follow the center's rules, said Gomez of the Galilee Center.
Gomez said more farmworker housing is "greatly needed" and the new emergency shelter is a "good start." When asked if it would provide enough beds, she said, "ask me that question in a month."