Emergency Transfer Services

At Galilee Center, we welcome individuals and families fleeing their home countries due to poverty, violence, persecution, and intolerance. These persons have traveled thousands of miles, abandoning their networks of family and friends, as well as virtually everything they own. We recognize their strength and believe asylum seekers deserve to find a safe haven upon entering the United States.
Currently, there is an increased number of families being released into Riverside County who are in need of our assistance. The journey to asylum is a perilous one, and these families have often crossed over dangerous terrain and circumstances just to arrive at the border. Asylum seekers have come from Brazil, Cuba, Ecuador, India, Bangladesh, Venezuela, Romania, El Salvador, Nicaragua, and Honduras. Once a family has been processed and granted asylum-seeking status the border patrol releases them into the United States. Galilee Center, the Riverside County Housing, Homelessness Prevention & Workforce Solutions Department and the CA DPSS ensure the individuals are tested for COVID-19, and Galilee Center shelters those whose results are negative. The people with a positive result and the people who were exposed to a COVID-19 positive person, are taken to motels to be in quarantine for 11 days.
Long Term Transfer Services
Over the past few months, several families have had to stay longer than the average time of 48-hours due to not having a sponsor that can receive them. To overcome this challenge, Galilee Center has opened another location that allows the families to stay up to 90 days. During this time, Galilee's case workers will work with each family to find a more permanent solution.
Galilee's management has located a hotel with thirty-six rooms, each with a kitchenette, refrigerator, and a microwave. Staff also has developed procedures for this extended stay. Two full-time Case Workers will be dedicated to helping the families to find a sponsor or find a permanent location in the Coachella Valley (or surrounding areas) and will work individually with each family to ensure they adapt to their new life, enroll children in school, attend to their immigration appointments, and help them to become self-sufficient.
Galilee respectfully asks our community for support to secure the hotel for the next six months. This period will allow us to assist approximately eighty-five families.
Upon arrival, Galilee Center provides these families a broad range of short-term services, including a place to rest, three hot meals a day, a change of clothes, toiletries, virus protection, and a safe place to shower and wash their clothes. The intake/case workers help each family individually to connect via phone with their relatives/sponsors and immediately begin the travel and transportation arrangements to help them reach their final destinations.
Most families will not stay locally in Riverside County but will move on, connecting with loved ones in other parts of the state and country pending their court date. The average stay at Galilee Center is 36 hours. Final destinations in the United States include Florida, New York, Massachusetts, Georgia, North and South Carolina, Virginia, Oregon, Nevada and California.
Since October 2018, Galilee has sheltered family units and some pregnant women. There are very few singles seeking asylum and no unattended children have been received by Galilee Center.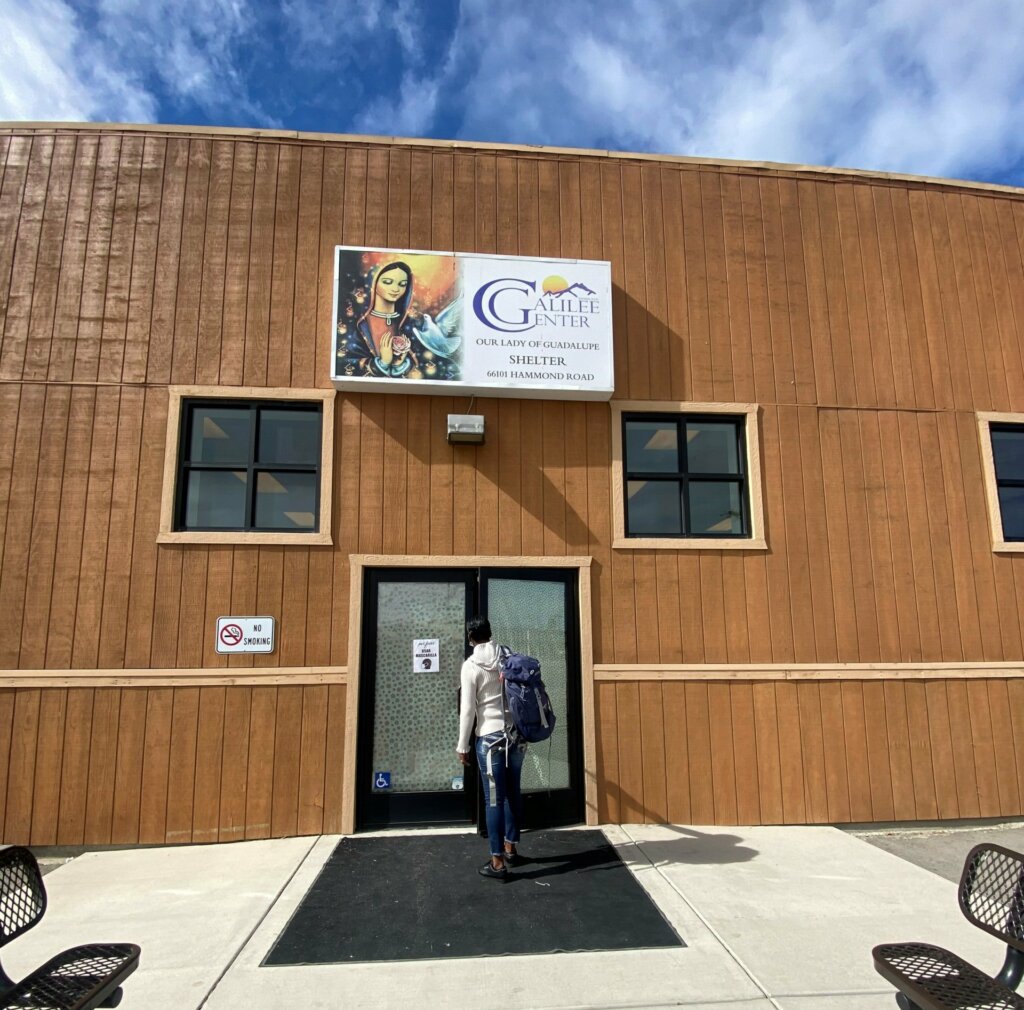 Our Mission
Galilee Center's mission is to fulfill the needs of the underprivileged and disadvantaged by providing food, clothing, and other basic needs and affirm their dignity with love, compassion, and respect. Though our number one priority will always be our local community, we have found an opportunity to extend our mission to assist families seeking asylum.
We appreciate and rely upon your donations to make this work possible.
News Channel 3 – 4/27/2021
ASULYM SEEKING FAMILIES TEMPORARILY HOUSED IN THE COACHELLA VALLEY