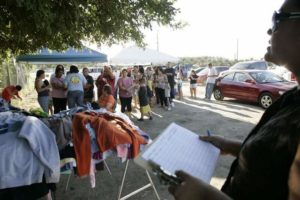 At far right Catalina Hernandez, a volunteer for the Galilee Center in Thermal helps to register needy families last August. The non-profit organization was founded by Claudia Castorena and Gloria Gomez. – Omar Ornelas, The Desert Sun.
In this weekly feature, The Desert Sun spotlights valley organizations performing good deeds.
Food baskets
Just slightly less than one year ago, the Galilee Center began providing food baskets to underprivileged families.
A generous family allowed the use of their back yard in Thermal as a distribution point and that is where they continue to be today, under a tree.
Founded by two women, Gloria Gomez and Claudia Castorena, the Galilee Center helps to feed the hungry, clothe the poor and shelter the homeless in the eastern portion of the Coachella Valley.
In the short time that the Galilee Center has been in operation, they have provided 8,500 food baskets to 1,178 registered families.
These families have received food vouchers, school supplies and backpacks, new toys, blankets, new jackets, tennis shoes and gently used clothing.
Additionally, 45 families have received rental assistance and 50 seniors have received crock pots and food vouchers.
The success of Galilee Center is the result of hardworking volunteers and a very generous community participating with donations of cash, clothing and household items.
During the first year of operation the Galilee Center received a $5,000 matching grant from the H.N. & Frances C. Berger Foundation and a $10,000 donation from Stater Bros. Charities.
The H.N. & Frances C. Berger Foundation generously supports established organizations, particularly ones promoting healthcare, social services and education, in a valiant effort to help people help themselves.
Stater Bros. Charities, the charitable arm of Stater Bros. markets, conducts an urgently needed campaign during November and December to help local families who are faced with hunger in the communities where their customers and employees live and work.
During this time period, additional funds are also collected at every Stater Bros. check-out stand, and these funds are donated back into the community during the summer when food reserves are traditionally low.
For the 2011-12 year, the Galilee Center has received a $25,000 grant from the Regional Access Project Foundation.
The RAP is a public benefit program that addresses unmet needs in health, mental heath and juvenile intervention for residents of eastern Riverside County through grants and technical assistance to not-for-profit service providers.
Written by Nina Ronda
For further information and to donate to the Galilee Center:
• Monetary donations: Galilee Center, P.O. Box 297, Thermal, CA 92274
• Office: 1030 Sixth Street, #5, Coachella; (760) 398-2100, www.galileecenter.org