Dear Friends,
On this Holiday Season, we would like to express our gratitude for the support given to Galilee Center's mission.
With your support, Galilee Center will continue its mission of helping hundreds of low-income families with Christmas Food Baskets and New Toys for more than 1,100 children on Christmas Day.
---
Please consider supporting one of the Ways To Help On Christmas
What will your gift buy?
Your generous donation of $25 will feed a family of 4 for 4 days – that's 32 meals at only 78 cents!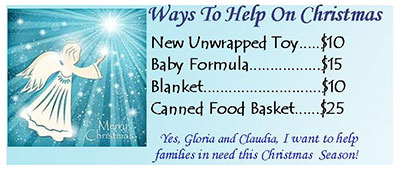 We at the Galilee Center wish you a peaceful and joyful Holiday Season.
Thank you for sharing your blessings.
Prefer to mail your donation?
Please send your check to:
Galilee Center
P.O. Box 308
Mecca, CA 92254